Department News
Our colleague and dear friend, Distinguished Professor Louise Kellogg, passed away on April 15, 2019.  Louise built innumerable ties among people, using her outstanding science, trans-disciplinary vision, and dedication to equity. Her family, friends and colleagues around the world are grieving her loss. Messages of sympathy and memories of Louise may be sent to memories-of-louise@ucdavis.edu. If you wish to have your message included on this web page, please let us know.
Louise Kellogg Memorial Fund. Make a gift in support of first generation students studying Earth and Planetary Sciences at UC Davis. This support represents one of the many passions of Distinguished Professor Louise H. Kellogg.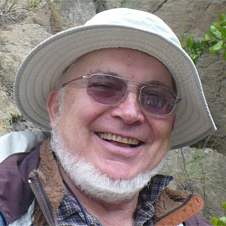 Our colleague and dear friend, Distinguished Professor Emeritus Eldridge Moores, passed away on October 28th. Eldridge's vision, leadership, and compassion were the soul of this department. His family and his many friends and colleagues here at UC Davis and around the world are grieving from this untimely loss.
---
Climate change and sea-level rise are bringing more water to people's doorsteps, threatening communities from Midwestern America to Jakarta, Indonesia. Entire towns are moving to escape rising waters. But how do towns address these growing threats and still retain their sense of community? To find out, flood expert Nicholas Pinter and his team are visiting dozens of communities across the Midwest  that have moved entirely off the floodplain in a concept called "managed retreat." Read the full, multimedia story of two of those towns — one in Illinois, the other in Wisconsin — at UC Davis Science & Climate, www.climatechange.ucdavis.edu. 
Simon J. Lock, former UC Davis visiting graduate student (current postdoc at the California Institute of Technology), is awarded the 2019 Pellas-Ryder Award for his paper titled "The Origin of the Moon within a Terrestrial Synestia" published in the Journal of Geophysical Research Planets in 2018. The Pellas-Ryder award is awarded to an undergraduate or graduate student who is first author of the best planetary science paper published in a peer-reviewed scientific journal during the year prior to the award. 
Tessa Hill has been awarded an Academic Senate Distinguished Scholarly Public Service Award by the Davis Division of the Academic Senate for her efforts to raise awareness of the impacts of climate change.
 
Bill Casey | Caseyite
A new mineral has been named after Bill Casey. Caseyite is a vanadium aluminum oxyhydride.
A UC Davis program helps STEM majors become K-12 Teachers. While some UC Davis students who earn technical degrees in majors such as physics or computer science go on to become engineers and scientists, others decide to pursue careers in education. Some STEM majors decide to become K-12 teachers, and a program called CalTeach Mathematics and Science Teaching Program helps support their ambitions.  
Give Day 2019 | Earth and Planetary Sciences
Thank you for your generous support to our two Give Day 2019 Geology Challenges: Summer Field Geology and Pathways to Professional Geology!
All your donations are greatly appreciated.
We would like to thank Robert and Lisa Campbell for donating their $12,500 challenge gift to Summer Field Geology -  a course considered to be the most valuable in the geology curriculum. We would also like to thank Roy Shlemon for donating his challenge gift of $25000 to Pathways for Professional Geology - helping UC Davis students achieve careers as professional geologists.
Graduate student Veronica Vriesman is a 2019 recipient of a NSF Graduate Research Fellowship. NSF's Graduate Research Fellowship Program (GRFP) recognizes and supports individuals early in their graduate training in STEM (Science, Technology, Education, and Mathematics) fields.
Following a Path to Science | A student perspective on research at UC Davis Bodega Marine Lab
Kimberly is currently at senior at UC Davis, majoring in Geology. She writes: "As a child, I loved learning about geology, meteorology, and astronomy, as they were both fascinating and easy to experience. I always knew that I wanted to go to college and study science, though it wasn't so simple in reality." 
 
more news