Geology Transfer Students
The UC Davis Earth and Planetary Sciences department welcomes prospective transfer students from the California Community College system. We also recognize the difficulties some of you might encounter in completing our undergraduate degree program in two years. Many of our courses are only offered once a year, and careful planning is needed to complete the degree requirements. The following information is provided for your convenience, but is not meant to replace a consultation with one of our undergraduate advisors.
---
Prior to transferring into UC Davis, students must meet the Transfer Admission requirements. For the Bachelor of Science degree program in Geology at UC Davis, we strongly recommend that transfer students complete preparatory coursework equivalent to the following:
Calculus with Linear Algebra (MAT 16A-B-C-22A or 17A-B-C or 21A-B-22A)
Two quarters of Chemistry (CHE 2A-B)
Two quarters of Physics (PHY 7A-B or 9A-B)
Statistics (STA 13)
Physical Geology with Laboratory (GEL 50, 50L)
In order to complete two quarters of coursework, you may have to take a full year of that subject at community college.
The geology courses are designed to build on the basic foundation of the Math, Chemistry and Physics classes. Those who transfer without completion of these classes will not only have difficulty scheduling all of their classes, but will also be disadvantaged by trying to simultaneously complete their lower division science requirements and their upper division geology requirements. Conversely, those who transfer with all or most of their basic science prerequisites already completed generally have the time to pursue an independent research project (i.e. GEL 194A and B) during their senior year (which would count as 6 units of upper division electives.)
Typical schedules for transfer students who have completed the classes listed above prior to transferring to UC Davis are shown below. The courses shown are only offered once a year in the quarter listed, and some classes are prerequisites for classes that follow, so there is limited flexibility in the schedule. Consequently, not taking a course in the following sequence may potentially require that you spend an extra year in school to complete the graduation requirements. We encourage students to take the summer field course as soon as they have completed all of the prerequisite classes, and we encourage our best students to get involved in research projects that will lead to a Senior thesis.
---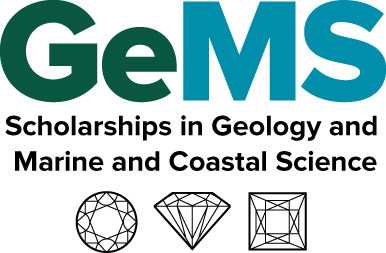 Scholarships in Geology and Marine and Coastal Science (GeMS)
The UC Davis Earth and Planetary Sciences department has funds from the National Science Foundation (S-STEM Program) for undergraduate scholarships of up to $8,000, potentially renewable for multiple years. 
Junior College and Community College students planning to apply for admission to UC Davis as Geology or Marine and Coastal Science majors (in the College of Letters & Science) are encouraged to apply.
All awards are capped at the student's individual Financial Aid eligibility and may be limited by the availability of funding.
---
The information here is provided for your convenience; classes are subject to change. Please speak with a geology major advisor for the latest information on a geology major study plan. These are just major classes, so be sure to check MyDegree.ucdavis.edu for any additional degree requirements, including General Education and your College English Composition Requirement (UWP 104E is recommended).
Classes in italics must stay in the quarter they're listed, although not always in the year listed.
The following classes are recommended for those who intend to pursue graduate degrees but are not necessarily required for the Bachelor of Science degree in Geology: MAT 21D, MAT 22A, MAT 22B, PHY 9D.
GEL Transfer Options (pdf)